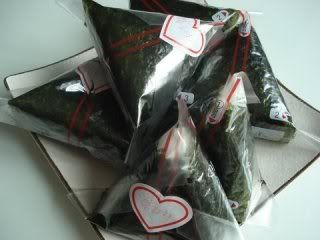 I feel in love with these little babies when I went to Osaka Japan about two years ago. And lucky me, they also sell them here in Korea. They're rice triangles, wrapped in seaweed and come with different fillings. Many of them meat but you can also find them with pickled radish and other various veggies inside. :) The Japanese call them onigiri. In Korean, samgak kimbap.
They come carefully wrapped and with instructions...
1. pull down from plastic on the tip of the triangle
2. pull from the right
3. pull from the left
Ta-da! You've got your self a delicious snack. I'm going to miss these when I'm back in the states!